Stress-Free Potty Training Tips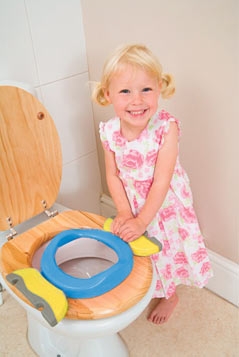 Of the many social pressures placed on parents of toddlers, chief among them is the pressure to potty train their children early.
This is just plain silly, because toilet training is not something you can accelerate. Until a child is physically and emotionally ready, it just isn't going to happen. It isn't developmentally possible.
Readiness has little to do with biological age. According to the American Academy of Pediatrics (AAP), most kids achieve daytime training success by three to four years of age. Staying dry at night can take quite a bit longer.
While many parents dread the prospect of toilet training, it needn't be a stressful, endless process. Often, frustrations arise simply because the "trainees" are not yet ready.
When you think about it, toilet training is an awful lot to ask from a toddler. A child must be biologically able to control his bladder and bowel movements. He must be able to recognize the need to go in advance and be willing to break away from whatever he's doing. And he must able to "hold it" until he can get to the bathroom and deal with his clothing. Whew!
So, how do you know when your child is ready for all this complicated stuff? According to the AAP, look for these signs:
Your child stays dry for at least two hours at a time and moves her bowels at regular, predictable intervals.
Your child indicates when he is about to go through his facial expression or posture. Or he tells you verbally.
Your child can follow instructions.
Your child can walk to the bathroom and help get undressed.
Your child dislikes the sensation of dirty diapers and asks to be changed.
Your child expresses interest in "big kid" underwear.
Your child wants to use the toilet.
Once your child is ready, here are some potty training tips to make training easier:





Make them comfortable.

The AAP recommends getting your child his or her own potty chair, because it's easier to use and balance on. You can choose a low, self-standing chair or a child-friendly seat that attaches to a standard toilet such as the BABYBJORN® Toilet Trainer, Family Seat, or the 3-in-1 Toilet Trainer.

Build a potty vocabulary.

Decide in advance what words you'll use to describe body parts and functions. Choose words that you and those around you can live with comfortably. You'll be using them long after your child is trained!

Help your child recognize his body's signals.

Encourage your child tune in to the feeling of having to go. Our "Once Upon a Potty" collection (book, DVD, and dolls) is a fun way to build your child's growing awareness. Often, kids start training by announcing they've soiled their diaper after the fact. This is a good beginning, because it means they're paying attention.

Get your child in the habit of visiting the toilet regularly, until she remembers on her own. Our Potty Watch reminds kids it's time to go. And don't let travel disrupt your training regimen: bring a portable potty seat along like our 2 in 1 Portable Potty & Trainer Seat, or our Travel Potty.

Emphasize the benefits of being a "big kid."

Use praise and positive reinforcement to keep your child enthused. Many kids are motivated by the thought of wearing training pants. But expect your share of accidents, and eliminate frustration by protecting your child's mattress and booster with our Dri Nights Waterproof Mattress Protector and Deluxe PiddlePad.

If you have a boy, you may choose to train him to urinate standing up from the start. Many parents report that their sons do well when following dad's example. To make training easier and more fun, see our highly-rated Tinkle Targets.
There's only one person who can tell you for certain it's the right time for toilet training, and that's your child. If you take your cue from him or her and provide good direction and positive support, you're on your way. You can also read the AAP's Toilet Training Guidelines: Parents—The Role of the Parents in Toilet Training for more great information. Here's to a less stressful, more successful experience!
Related Article(s):
Help Your Child Stop Bed Wetting

Shop:
Potty Training Products
View More Articles