Planning Your Family Vacation: Traveling with Kids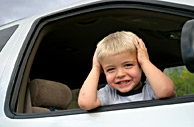 Let's hear it for family vacations! They offer the ideal opportunity to enjoy quality time with your child — while building some wonderful family memories.
But traveling with children presents some very real challenges. How do you ensure a happy and relaxing vacation for one and all? The secret is flexibility, humor, and detailed planning. These tips will start you on your way:
Take your child's interests and attention span into account when planning your trip. Don't over-schedule each day; be sure your child has time to just "be a kid."
Identify those necessities you'll need to have at all times. Fill a backpack or tote with snacks, drinks, wipes, tissues, and plenty of on-the-go activities (for some time-tested suggestions, read on).
To avoid "cranky kid syndrome," try to keep to your child's regular mealtimes and bedtimes. Getting off-schedule can be tough for some children.
Traveling by plane? Rapid changes in cabin pressure can make little ears "pop." Keep drinks, gum, or hard candy handy (sucking and chewing helps reduce sensitivity). Better yet, discover our EarPlanes — soft ear filters that regulate air pressure, preventing discomfort.
If you have a long drive ahead, be prepared to entertain your little traveler. A portable activity tray helps the hours pass, offering a flat surface for playing and snacking.
Don't forget that traveling toy box! Fill it with crayons, drawing paper, handheld games, CDs, and all kinds of fun activity books.
Break long trips into smaller segments, offering frequent rest stops. Let your child safely release some energy along the way by jumping rope or tossing a ball.
A comfortable passenger is a happy passenger! A child-sized head pillow will ensure comfy napping (and no stiff necks later).
For long trips (or if your family travels frequently), consider investing in a portable TV with DVD or VCR player. Nothing makes time fly faster than a good movie.
Don't compromise safety for convenience while traveling. If your car rental agency can't guarantee you a car seat or booster, bring your own. (We offer a terrific portable car restraint that weighs just 4 lbs. and fits in a tote bag.)
If you'll be spending any time outdoors, pack sun and bug protection, including child-safe sun block, insect repellant, and an all-important first aid kit.
Bring along a handy medical summary card for your child, specifying medical conditions, allergies, and any medications.
Pack some little surprises to introduce along the way. Kids love 'em — especially if you wrap them first. Consider something that will engage your child throughout your trip, like a child-friendly camera or easy-to-read watch (Watch 'n Learn).
Planning complete? Get ready to relax and enjoy your special time together!
View More Articles