Baby and Kids' Sun Protection Primer: What Every Parent Should Know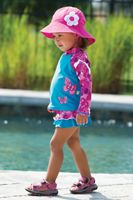 One of the greatest gifts you can give your child is to follow a healthy sun protection program, right from the start. Because the more we learn about UV exposure, the more dangerous we know it to be, especially for children. Did you know…
Skin cancer is the most common form of cancer.
The effects of UV exposure are cumulative, so even moderate exposure in childhood can cause skin damage and skin cancer later, according to the American Academy of Pediatrics (AAP).
Children's eyes are more sensitive than adults to UV rays. Sun exposure can actually cause cataracts and macular degeneration.
Even just one blistering childhood sunburn can double a child's risk of developing skin cancer, according to the Skin Cancer Foundation.
While freckles are cute, and our culture encourages us to think of tans as "healthy," both are actually signs that the skin has been damaged.
About 90% of non-melanoma skin cancer cases are sun-related. That means 90% of them could be prevented simply with proper sun protection.
Start Healthy Sun Protection Habits Early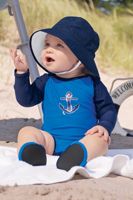 Now for the good news! Building healthy sun safety habits is really a matter of taking simple safety precautions, like those recommended by AAP and the Skin Cancer Foundation:
Limit sun exposure between 10am-4 pm. That's the time of day when UV rays are at their strongest.
Keep babies under six months old out of direct sunlight. (See our sun blocking cabanas and other outdoor gear.)
Use a sunscreen made specifically for children with an SPF of 15 or higher. Look for broad spectrum sunscreen that shields both UVA and UVB rays.
Don't let your guard down on cloudy days. (UV rays do penetrate the clouds.)
Choose kids' sunglasses with at least 99% UV protection.
Dress kids in sunhats or caps with brims that shield little faces. Sun Smarties sun hats offer cute styles for boys and girls.
Set a good example; protect your own skin, too. Your child will follow your lead.
Cover up! The Skin Cancer Foundation recommends wearing UV clothing for maximum protection. That's what our Sun Smarties™ collection is all about!
Understanding UV, UPF, and SPF Protection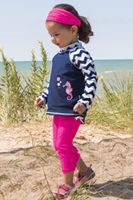 When it comes to sun protection, there is no shortage of abbreviations. But understanding them is easier than you might think.
UV — "UV" is short for "ultraviolet," as in ultraviolet rays. There are two types of skin-damaging UV rays:
UVA rays, which cause wrinkling and premature aging, and
UVB rays, which cause sunburn and cataracts.
Both UVA and UVB rays are dangerous and can cause skin cancer, so kids—and adults—need to be protected from both.
UPF — UPF stands for "Ultraviolet Protection Factor." UPF is a universal rating system that measures the sun-blocking effectiveness of clothing and other fabric-made gear. UPF clothing (also referred to as "UV clothing") is specially designed to block both UVA and UVB rays.
There are three UPF categories under the U.S. rating system: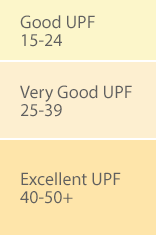 The numbers—like "UPF 15"—refer to the percentage of UV rays that penetrate the fabric and reach the skin. All Sun Smarties™ fabrics are UPF 50+. This means that only 1/50th of UV rays shining on the fabric ever reach your child's skin. The remaining 49/50ths (or 98%) of UV rays are blocked. When it comes to sun protective clothing, Sun Smarties™ offers the highest level of UV protection available.
SPF — SPF is an abbreviation for "Sun Protection Factor." While the UPF scale applies to fabrics, SPF is the rating system used to categorize sunscreens and sunblocking lotions.
Technically, SPF measures the amount of time it takes UVB rays to redden exposed skin. So while you've probably heard people use the term "SPF clothing," it's not really accurate. What they really mean is UPF (or UV) clothing.
Where Sun Smarties™ Fits In
We developed our Sun Smarties™ kids' clothing and gear to make sun protection easier for parents. Years ago, after testing other kids' UV swimwear and UPF clothing, we saw an opportunity to create something better. Each year, we expand and refine our Sun Smarties™ clothing and gear in response to feedback we receive from parents and customers. We hope that you'll scope out our Sun Smarties™ collection, and that you'll make us part of your child's sun protection regime.
Other Outdoor Safety Articles:
Amusement & Water Park Safety Tips
Pool Safety: 13 Steps to a Safer Backyard Pool
Shop:
Sun Smarties Apparel
Kids' Sunglasses
Boys' Sun Hats
Girls' Sun Hats