Think Outside the Toy Box: Storage Solutions for Organizing Kid Clutter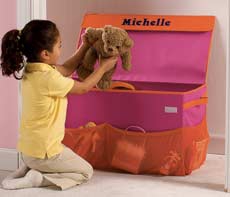 Toys, toys, everywhere? It is possible to get your child's room organized and keep it that way, too!
Car Organization: 7 Steps to a Neat Backseat
Remember the days when you took pride in your car's spotless interior? Alas, once we become parents, many of us find ourselves resigned to a chaotic backseat, marked by clutter, crumbs, and cringe-inducing stains. But it doesn't have to be that way.
While your days of traveling light may be over, it is possible to return your wheels to a neat, well-organized state. The secret: get your car in order once, and then install organizers to keep it that way. It will only take an hour or two of your time, and we promise you'll be glad you did.
Of course, you may also have to change your little passenger's habits, and that's a work in progress. But you've got to start somewhere. How about right here?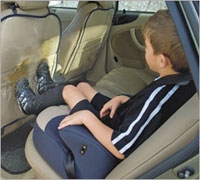 Little people generate a surprising amount of "carbage," as some parents like to call it. An easy solution: install a backseat trash container. (Tip: if your children eat or drink in the car, make sure it's leak-proof.) Then, the trick is getting kids in the habit of using it. Consider creating a little song or chant to help them remember: "Where does the car-bage go?" "In the car-bage can!"
When it comes to your vehicle's upholstery, an ounce of prevention is worth a pound of cure. After all, while some stains are removable, once the upholstery is torn or dented, you're stuck with the damage. To protect your investment, shield your upholstery with a really sturdy single seat cover or bench seat cover.
Speaking of upholstery, one spot that's often overlooked (until it's too late) is the back of the driver's seat, which little feet love to kick and scuff. So how do you keep your seat back from looking like a dance floor? With our rugged Seat Back Protector, which comes highly-rated by parents!
If you use your trunk or cargo area for hauling strollers or sporting gear—and what parent doesn't—it pays to protect it from muddy stroller wheels and soccer shoes. A rugged cargo mat can work wonders. Tip: look for one that's waterproof and machine washable.
Travel toys certainly keep little passengers happy, but what a mess they can make! That's why we offer several smart toy organizers, from those that sit on the seat beside your child to those that hang from the back of the front seat. Tip: the more compartments, the better!
Of course, once you install a toy organizer, it's essential to get kids in the habit of using it. Stress the benefit of always knowing where those toys are and of taking care of one's belongings. Perhaps you can invent a little "pick-up-the-toys" song. (One dad we know insists the ride's not over until the last toy has been put away.)
Many kids like to have a beverage in the car, but when you combine children, sloshy liquids, and moving vehicles, you're asking for the occasional spill. So in addition to that seat cover, make sure your child has an accessible drink holder. If your vehicle's built-ins are out of reach, add a portable cup holder or travel tray, which offers the added benefit of keeping playthings at hand. If you've ever had to pull over to retrieve a dropped toy, this is an essential!
For many families, our cars are like a second home on wheels, so it pays to keep them looking good. For more backseat makeover solutions, see our Auto Accessories collection.
View More Articles
The key to organizing your child's bedroom or playroom is to make the best use of your available space. Think outside the box — the toy box, that is. Look at each wall, your floor space, your closets and crannies. Consider both horizontal and vertical space. Then, employ clever organizers that allow you to reclaim that unused real estate.
Not only will your home look great, your child will get greater use from his or her playthings. (When toys are easy to find, kids play with them more often.) In addition, you'll teach your child to take care of his of her possessions — while building neat habits that last a lifetime.
A Place For Everything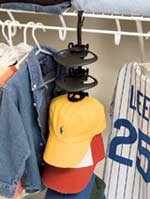 Getting organized can be fun! Here are some ideas to get your creative juices flowing:
Take advantage of vertical wall space with bookshelves and toy shelves. If you periodically rotate toys from upper shelves to more-accessible lower shelves, your child will always have something "new" to play with.
What's the ideal organizer? Shelves of plastic bins — with lids! These allow you to categorize your child's playthings — i.e., blocks, cars, dolls. And because kids can see inside, they can easily find what they're looking for.
Child-safe toy boxes are perfect for storing large, unwieldy items, while adding interest to a room. Look for one with no-pinch hinges and a slam-proof safety lid.
Review your child's closet with fresh eyes. Look past the clothing rack: how much precious space is going unused? A clever closet organizer with multiple compartments can more than double storage capacity!
What's above your child's furniture? Plenty of unutilized storage space, that's what! Put it to work with expandable hat racks, toy hammocks, clothing pegs, or hanging toy chains . It's a great way to organize and display stuffed animals, dress-up costumes, and baseball caps.
Don't forget that valuable space under the bed. Flat boxes are perfect for storing out-of-season gear and toys, while keeping them dust-free.
When purchasing a play table, look for one with a coordinating wheeled trundle drawer . After playtime, toys store virtually out of sight.
If your child's clothing ends up on the floor, place a "cool" hamper in your child's room and encourage him or her to use it. (Our folding double sided hamper looks great and makes pick-up fun.)
How about the bathroom? It's easy to organize tub toys with mildew-resistant toy nets and tub trays.
If you don't want your child to resist getting organized, include her in the process. Let her choose some of the storage containers and decide what goes in them. Kids like playful colorful units-and some can even be personalized!
Encourage your child to pick up toys regularly and to take pride in his or her room. Soon, you'll both agree that it's "neat" to be organized.
View More Articles