Tips for Eating Out with Baby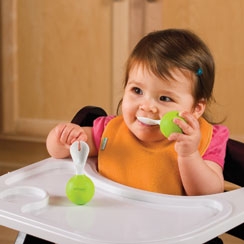 Love dining out? Who doesn't! Sharing a meal out with your baby or tot can be very enjoyable family time—and it's a great way to start building social savvy. But when your dinner companion is cranky and restless, the experience quickly turns sour.
In order to ensure a pleasant occasion—for baby, for you, and for everyone within wailing distance—you need to do a bit of planning. Here's how:
Choose your restaurant with care, because some are far more child-friendly than others. How can you tell? Children's menus and courtesy highchairs indicate that kids are welcome.
Avoid busy places and peak dining times. If the wait is too long or the service too slow, baby may be ready to leave before your entree arrives.
Make sure baby is safe and comfortable. You can't always count on the availability or condition of restaurant high chairs, which is why our boosters remain in high demand. Here's some of our favorites:
Recommended Booster Seats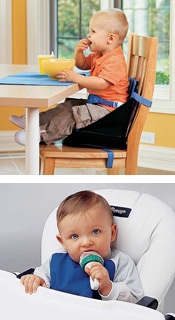 Planning to use the restaurant's highchair? Try a seat cover that fits over standards chairs, creating a comfy, sanitary seat for baby.
Make sure baby stays busy. Bring along some intriguing table toys—perhaps reserve a few just for special outings.
Recommended Table Toys
It's no fun watching other people eat, so make sure baby has food to enjoy, too. Pack a spill-proof snack cup. Bringing a bottle? Try a travel bottle warmer that heats anywhere.
Be sure your child dines safely. Does baby enjoys trying your food. Pack feeding essentials not typically found in restaurants, such as baby spoons or sippy cups.
Ensure cleanup is a snap...you'll enjoy yourself more. Pack disposable bibs and wet wipes, all in a handy pouch. Big on crumbs? Stick-on table top mats are disposable placemats that keep eating surfaces neat.
Dining out with baby can be a delicious experience. All it takes is a little preparation.
Related Article(s):
Healthy Eating: 10 Ways to Get Your Child to Eat Better Food
Traveling with Kids (Our Top Safety Tips!)
Shop:
Out & About Travel
Totes, Stroller Bags & Diaper Bags
View More Articles