Tips for Eating Out with Baby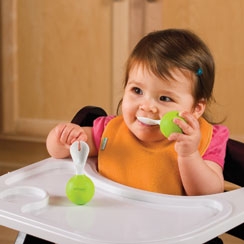 Love dining out? Who doesn't! Sharing a meal out with your baby or tot can be very enjoyable family time—and it's a great way to start building social savvy. But when your dinner companion is cranky and restless, the experience quickly turns sour.
In order to ensure a pleasant occasion—for baby, for you, and for everyone within wailing distance—you need to do a bit of planning. Here's how:
Choose your restaurant with care, because some are far more child-friendly than others. How can you tell? Children's menus and courtesy highchairs indicate that kids are welcome.
Avoid busy places and peak dining times. If the wait is too long or the service too slow, baby may be ready to leave before your entree arrives.
Make sure baby is safe and comfortable. You can't always count on the availability or condition of restaurant high chairs, which is why our boosters remain in high demand. Here's some of our favorites:
Easy Diner—Cushy and padded, this high-backed chair clamps right to the table, keeping baby close.
Reclining 4-Stage Seat—The only seat that adjusts to fit newborns-40 lbs., so you'll use it for years.
Hi-Seat—So portable, it folds into its own carry case.
Cooshie Booster—Ideal for bigger tots, and it's made of soft, non-slip foam that's calming to sit on.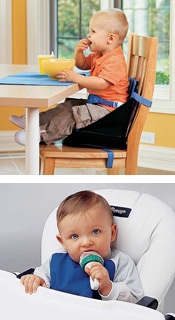 Planning to use the restaurant's highchair? Our Shop 'n Dine Comfort Cover fits over standards chairs, creating a comfy, sanitary seat for baby.
Make sure baby stays busy. Bring along some intriguing table toys—perhaps reserve a few just for special outings. Our Parent's Panel recommends these:
Highchair Activity Center—Built to fit on a highchair tray. One side is an activity box, the other a shape sorter, giving kids plenty to do.
Space Coaster—This clever mini bead roller coaster suctions to the highchair tray, so you won't spend your meal retrieving tossed toys.
Toddler Tote—A fascinating collection of puzzles, pegs, and shapes, all in a compact case for easy carrying.
My Quiet Book—Dinnertime flies, as tots busily buckle, button, tie, and explore.
It's no fun watching other people eat, so make sure baby has food to enjoy, too. Our spill-proof Snack-Trap and Take and Toss Cups make it easy to pack food and beverages. Bringing a bottle? Our Grab-and-Go Bottle Warmer heats anywhere—no electricity needed.
Be sure your child dines safely. Does baby enjoys tasting bits of your food? The Baby Safe Feeder lets your little gourmet sample— without risk of choking.
Ensure cleanup is a snap...you'll enjoy yourself more. Our Quick 'n Bizzy Travel Pack includes disposable bibs and wet wipes, all in a handy pouch. Big on crumbs? Stick-on Table Toppers are disposable placemats that keep eating surfaces neat.
Dining out with baby can be a delicious experience. All it takes is a little preparation.
View More Articles