Creating the Perfect Closet Organizer
A well-designed kids' closet organizer is a beautiful thing. It allows you to maximize your existing storage space, while saving you precious time (a must on busy mornings!). It even helps kids build good organizational habits.
So, when we decided to offer a closet organizers for kids, we started like we always do: by asking parents what they want and need. Then, we evaluated existing closet systems—including wood and wire built-ins as well as plastic and canvas shelving—to see how they stack up.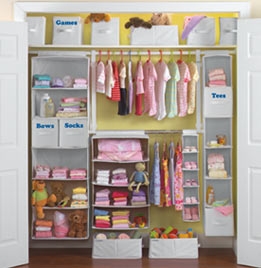 Ultimately, we concluded that the ideal kids' closet system must be…
Sturdy and reliable, but easy to install (no drilling!)
Full of grow-with-me possibilities, with modular add-ons.
Versatile in design, so it works with closets of all sizes.
Child-friendly, to encourage self-reliance.
A terrific value, offering great quality at an affordable price.
Not surprisingly, we found our dream closet organizer didn't exist…yet. So we created our exclusive My Closet system, the sturdiest canvas storage system you'll find. It's a breeze to install, and you can take it along if you move. Our customers confirm that, yes, it's a great value. And we offer a range of customizing components, so you can design your perfect closet organizer (and update it if you need to). Here's how!
The Basic Rules of Closet Design
Before anything else, carefully measure your child's closet —you may be surprised. As part of our product development process, we asked our employees to size up their closets at home. We learned that, while most closets are 6-8 feet wide, a surprising number are not. Who knew?
Think about how you'll use your child's closet. Do you like to hang up most of his outfits, or fold them? How much length do you need for clothing to hang freely? Will you be storing toys and other gear in the closet as well as apparel?
Organization pros recommend inventorying your closet before you design your storage solution, so you'll know exactly what you need. They suggest sorting the contents into five categories:
Giveaways — Stuff to hand down or donate to charity.
Needs work — Items that need mending or special cleaning.
Store elsewhere — Maybe that sports gear really belongs in the garage?
Keepers — Everything that really belongs in your child's closet.
Trash — If anything's truly beyond hope, toss it!
Know Your Options
As you pick and choose from our My Closet organizer components, keep function in mind. For example:
Our expandable closet rod may virtually double your hanging space.
The canvas bins are perfect for corralling toys, and also utilizing wasted space at the top or bottom of your closet.
According to customers, a shoe organizer is a secret timesaver. No more hunting for that always missing shoe, plus you can see all your options at a glance.
Have lots of sweaters, snow pants, and bulky items? Extra-wide shelving units may be your solution or try under-bed storage to keep it out of site.
Put our personalization option to work. If two kids are sharing a closet, personalized storage bins can keep the peace. Using multiple bins for different purposes? Label them for quicker searching and sorting.
If your mornings are chaotic (and whose aren't?), grab a Days of the Week organizer. It lets you plan outfits in advance, and—when you consult with your little fashionista—put an end to daily wardrobe wars.
Once you're happy with your closet design, do yourself a favor: double-check your math! We list the exact measurements of every closet component. Before you order, make sure the combined widths of your chosen units total up to fit in your actual closet. We don't want you to be disappointed.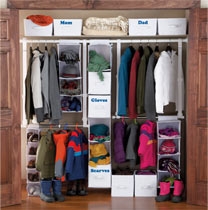 Utilize The Grow-with-Me Factor
One of the unique benefits of our exclusive My Closet system is that you can update it as your child or family grows.
For example, many parents are inspired to order our closet organizer when they're expecting their second child and suddenly need to make more room in the closet.
Plus, our closet system is child-friendly, so you can set it up to encourage independence. (Even if your child is just a baby now, before you know it, she'll be trying to dress herself.) For example, you can position our hanging closet rod within your child's reach, encouraging self-reliance.
But our closet system isn't just for kids. Some parents like their child's organizer so much, they decide to get their own. It works great in mudrooms, entryways, and coat closets, too.
Remember, with the My Closet organizer system, there is no right way or wrong way to use it. We've posted photos of some basic closet designs⁚use them for inspiration, or start from scratch. Either way, have fun with it. Now, start designing your closet system!
Related Article(s):
Creating a Kids Playroom That is Fun and Functional
Think Outside the Toy Box: Storage Solutions for Organizing Kid Clutter
Car Organization: 7 Steps to a Neat Back Seat

Shop:
Storage & Organization

View More Articles