How to Choose the Best Baby Gate (in Four Simple Steps)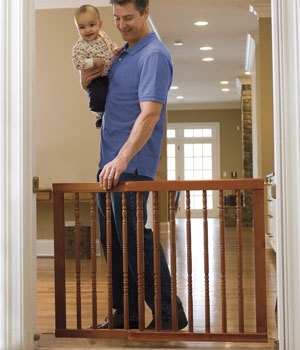 Once your baby starts crawling, safety gates become a childproofing essential. The good news is, now parents have more gate choices than ever. There's a solution for just about every space. The challenge is, all these options make it much harder to choose.
But it doesn't have to be complicated. First, identify the areas in your home that need to be gated. Then, for each one, simply ask yourself these four questions:
1. What's the Size and Shape of the Space?
Safety gates can be divided into three categories, based on size and functionality:
Standard Gates

fit standard doorways, adjusting from about 30"-45" wide.

Extra-wide Gates

span larger spaces, such as in homes with open floor plans. Most extra-wide gates consist of a basic unit, plus extension panels you add as needed.

Specialty Gates

are designed for specific areas (such as hearths) or irregularly shaped spaces (such as when opposing walls don't line up evenly).
Rule of thumb: measure each space before you shop. Invest a few minutes upfront, and you save yourself a world of aggravation later.
2. What's the Best Installation Option?
You have two baby gate installation choices:
Hardware Gates

are permanently screwed to studs in the walls, and offer the greatest strength. The trade-off is that they're more complicated to install and leave holes behind, until you patch them over.

Pressure Gates

can be installed and removed easily at any time. No tools or holes needed; they work by exerting pressure against the walls, like tension rods. They're convenient, but not as sturdy as hardware gates.
Rule of thumb: Always use hardware gates at stair tops, to separate rooms on different levels, or if you require an extra secure gate. You can use pressure gates to barricade rooms on the same level.
3. What Look Appeals to Me?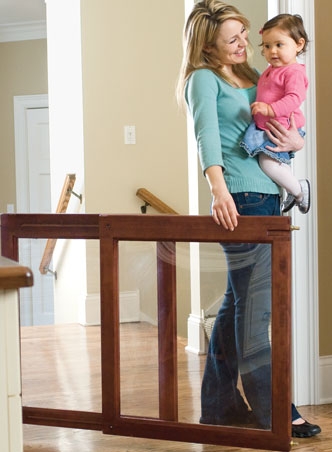 Appearance-wise, baby gates have come a long way. You'll find:
Wood gates with light and dark finishes
Contemporary metal gates
Basic plastic gates
Unobtrusive clear gates
Retractable or removable mesh gates
Tip: You'll be looking at your gates for some time (safety gates are intended for ages 6-24 months), so choose a style you can live with for a while.
4. How Will it be Used?
When choosing between features, consider what kind of action your gate will see every day. For example,
For high-traffic areas, you might want a gate with a two-way walk-through.
If you'll be carrying laundry or groceries through the area, consider a hands-free or auto-close gate.
If you have a tall or adventurous child, an extra-tall safety gate will provide greater security. (Gates should be at least three-quarters your child's height.)
If you do a lot of visiting, or if your child will frequently stay at Grandma and Grandpa's house, portable gates will make those visits safer and more relaxed.
More Gate Selection Tips
Avoid gates with slats more than 2⅜" apart. Little hands and feet can get trapped between wider spaces.
Be wary of using older second hand gates. Accordion-style gates with large, diamond-shaped openings are especially dangerous.
We offer a large selection of pre-tested safety gates, and we make our descriptions as detailed as possible. Our customer service representatives receive specific training on safety gates, so if you have any questions, please ask us.
Now you're ready to start browsing safety gates!
Related Article(s):
How to Child Proof Your Home
Safety Articles from One Step Ahead
Shop:
Baby Gates
Child Safety
View More Articles