Bath Time Help: Singin' the Bath-Time Blues?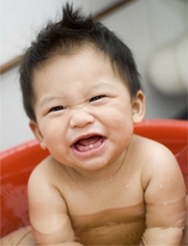 While most children look forward to bath time, many kids develop an aversion to the tub at one point or another. Unfortunately, bathing is not optional!
So, how can you make bathing easier and less stressful for you and your little landlubber? Start by identifying the source of your child's discomfort and taking steps to address it.
Is your child afraid of getting pulled down the drain (a relatively common toddler fear)? Reassure your child, and explain why that can't ever happen. And, until your child overcomes his fear, avoid draining the water until he's out of the tub.
Does your child hate getting soap or water in her eyes? In addition to using gentle, non-stinging shampoo, take steps to shield those little peepers. Try our Shampoo Visor or smart Shampoo Rinse Cup. Parents report they work wonders!
Is your child afraid of falling? After all, tubs are very hard, slippery surfaces. Safety-proof your tub (by the way, even if you're child isn't afraid, these are all smart safety measures)!

Eliminate slippery tub bottoms with our super-size Big Gripper Bath Mat.
Cushion the sides of the tub with our Secure Transitions Inflatable Tub
Suction our Safe-ER-Grip handle to the side of the tub, so kids can enter and exit securely.
And once you've addressed the source of your child's unease, there's plenty you can do to make bath time more fun.
Create some aquatic excitement with age-appropriate bath toys. We have a boatload of great suggestions, from squirters for infants...to cool, floating play sets for toddlers...to jammin' musical instrument sets for bigger kids.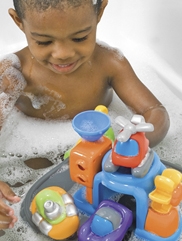 Need a super-duper distraction? Why not compose a bathtime symphony, launch a submarine, or have a bubble party?
Get creative...turn ordinary liquid soap into silly sculpting foam with our clever, non-aerosol pump (It cuts down on mess and helps soap last longer, too!).
If baths don't cut it, try a shower instead. We have some clever items that turn adult showerheads into gentle, child-friendly showers.
Instead of fretting about getting a bath, help your child focus on giving a bath to someone else. With our Rub-a-Dub Dirty Dogs bath toys, the dirt disappears off the squirters as your child scrubs (then reappears in time for tomorrow's bath).
Make bath time special by rewarding your child with super-soft hooded towels.
With a little ingenuity and patience, you can help your child get past his bath-loathing phase. In the meantime, keep your sense of humor afloat!
View More Articles