Outdoor Safety Starts in Your Own Backyard
There is no safer place for kids than in their own backyards, right? Wrong! The average yard contains any number of hidden hazards. Learn how to spot them, fix them, and make your property a child-friendly play zone...because safety really does start in your own backyard.
Safeguard Your Swing Set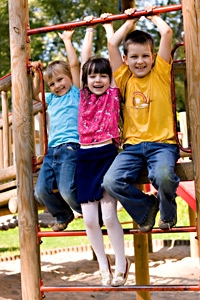 More than 200,000 children are injured on playground equipment every year. According to experts, the most popular ground covers are grass and packed dirt. These won't prevent serious head injuries, because the surfaces are simply too hard.
70 percent of playground injuries result from falls, so what's beneath your swing set matters. According to experts, the most popular ground covers are grass and packed dirt. These won't prevent serious head injuries, because the surfaces are simply too hard.
The best swing set "floors" are soft and shock-absorbent. Experts recommend using wood chips, mulch, sand, pea gravel, or rubber matting, at a depth of at least 12". (The higher the equipment, the deeper the cushion should be.) They also suggest extending the circumference out at least six feet beyond the equipment, so kids are protected in every direction.
Invest in a high-quality playset that is well-made and will hold up over time. Inspect it regularly. All components should be securely anchored to the ground. Fix protruding nails or bolts, smooth out splintered surfaces, and make sure "S" hooks are fully closed.
Give your slide a safety check. Edges should be rounded, not sharp. Some experts recommend that slides be no steeper than a 50 degree incline, and that the bottom be elevated 7 to 15 inches off the ground. Slides should deposit kids into an open, unobstructed area. (Teach your kids not to loiter in front of the slide and never to slide down headfirst.)
Rope swings are fun, but require extra vigilance. Always supervise your child closely and secure ropes out of reach once playtime is over. Similarly, don't allow kids to wear drawstring sweatshirts or necklaces when they're on play equipment; they pose a strangulation risk.
Sandboxes are great creativity builders, but make sure to get one with a cover. Covers not only keep play sand clean and fresh longer, but keep out pets, bugs, and uninvited wildlife.
Resist the urge to buy a play set your child can "grow into." Injuries occur more frequently when kids use equipment designed for bigger, older children. Be aware: falls from heights of five feet or higher are more likely to result in serious injuries. (Got a beginner? We offer a great 3-in-1 Activity Gym that's scaled down just for toddlers.)
Finally, always supervise your child when playing. The National Safe Kids Campaign maintains that 40 percent of accidents could be avoided simply if parents were more vigilant!
Other Yard Hazards
Kids are naturally curious. Never leave lawn mowers, pruning shears, or power tools out where children will be tempted to "try" them. Never mow the lawn when kids are in the yard; keep lawn and garden chemicals out of reach.
If your kids play in the driveway, get a driveway guard or a "kids at play" sign to keep motorists away and put drivers on alert.
If you have a deck, measure the space between the railings. If the openings are large enough for your child to wedge a limb through, that's a hazard. The solution: barricade the space with weather-resistant deck guard. If your deck has stairs or an opening, place an outdoor safety gate to prevent falls.
Put firewood off limits. Kids love to climb woodpiles, but stacked logs are a falling hazard. Plus, you don't know what kind of critters may have taken up residence.
If you have a pool, that's another story in itself. See our related article, Pool Safety: 13 Steps to a Safer Backyard Pool.
A backyard is a great place for kids to play, develop friendships, and get a healthy, fresh air workout. With a few safety precautions, your yard can be a wonderful, child-safe play zone.