Car Organization: 7 Steps to a Neat Backseat
Remember the days when you took pride in your car's spotless interior? Alas, once we become parents, many of us find ourselves resigned to a chaotic backseat, marked by clutter, crumbs, and cringe-inducing stains. But it doesn't have to be that way.
While your days of traveling light may be over, it is possible to return your wheels to a neat, well-organized state. The secret: get your car in order once, and then install organizers to keep it that way. It will only take an hour or two of your time, and we promise you'll be glad you did.
Of course, you may also have to change your little passenger's habits, and that's a work in progress. But you've got to start somewhere. How about right here?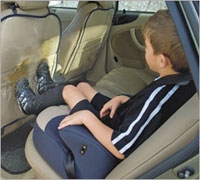 Little people generate a surprising amount of "carbage," as some parents like to call it. An easy solution: install a backseat trash container. (Tip: if your children eat or drink in the car, check out some of our spill-proof accessories.) Then, the trick is getting kids in the habit of using it. Consider creating a little song or chant to help them remember: "Where does the car-bage go?" "In the car-bage can!"
When it comes to your vehicle's upholstery, spill prevention is key. After all, while some stains are removable, once the upholstery is torn or dented, you're stuck with the damage. To protect your investment, shield your upholstery with a sturdy single seat cover or bench seat cover.
Speaking of upholstery, one spot that's often overlooked (until it's too late) is the back of the driver's seat, which little feet love to kick and scuff. So how do you keep your seat back from looking like a dance floor? With our rugged Seat Back Protector, which comes highly-rated by parents!
If you use your trunk or cargo area for hauling strollers or sporting gear—and what parent doesn't—it pays to protect it from muddy stroller wheels and soccer shoes. A rugged cargo mat can work wonders. Tip: look for one that's waterproof and machine washable.
Travel toys certainly keep little passengers happy, but what a mess they can make! That's why we offer several smart toy organizers, from those that sit on the seat beside your child to those that hang from the back of the front seat. Tip: the more compartments, the better!
Of course, once you install a toy organizer, it's essential to get kids in the habit of using it. Stress the benefit of always knowing where those toys are and of taking care of one's belongings. Perhaps you can invent a little "pick-up-the-toys" song. (One dad we know insists the ride's not over until the last toy has been put away.)
Many kids like to have a beverage in the car, but when you combine children, sloshy liquids, and moving vehicles, you're asking for the occasional spill. So in addition to that seat cover, make sure your child has an accessible drink holder. If your vehicle's built-ins are out of reach, add a portable cup holder or travel tray, which offers the added benefit of keeping playthings at hand. If you've ever had to pull over to retrieve a dropped toy, this is an essential!
For many families, our cars are like a second home on wheels, so it pays to keep them looking good.
Related Article(s):
Think Outside the Toy Box: Storage Solutions for Organizing Kid Clutter
Creating the Perfect Closet Organizer
Top Creative Tips for Traveling with Children
Shop:
Auto Accessories
Travel Gear
View More Articles