Creating a Kids Playroom That is Fun and Functional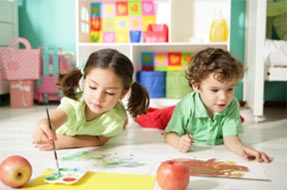 Creating or updating your child's playroom? We have some great playroom ideas for you!
The playroom is a very important place, not only because kids spend lots of time there, but because they learn so much through play. Therefore, the perfect playroom is a warm, welcoming space that sparks imagination.
Practically speaking, the perfect playroom is also low-maintenance. i.e., easy to clean and clean-up. We think it also should be easy on grown-up eyes (after all, it is part of your home!). It doesn't need to be elaborate, but it should be well-planned and provisioned. With all that in mind, here are some of our favorite playroom ideas.
Make it child-safe.
Since the goal is to encourage exploration, remove anything you wouldn't want your child getting into. Shield electrical outlets with outlet covers. Cover sharp edges and corners with safety cushioning. If your play space is in the basement, you might want to cover the support poles with foam padding.
Make it as indestructible as possible
Remove breakable items. For example, overhead lighting may be preferable to free-standing lamps. Cover the walls with washable paint. If you're going to use carpet, make sure it's super stain-resistant.
Make it inviting
Choose comfortable, child-size playroom furniture. And since kids love to play on the floor, provide at least some soft flooring (like our foam play mats!). Make sure the lighting is good and the temperature comfortable.
The easiest way to keep your play space neat
is to provide a place for everythingIncluding bins, bookshelves, and other playroom storage solutions. Encourage your child to build neat habit by choosing accessible, kid-friendly organizers.
Utilize every inch of square footage
Including the playroom walls. You can add shelving to maximize storage, or use it for displaying artwork. Or, better yet, turn one wall into an art canvas, by covering it with chalkboard or dry erase art panels.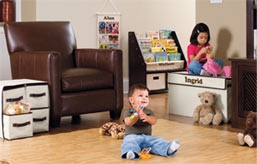 When it comes to playroom decorating, neutral tones offer the greatest longevity
(and are also most pleasing for adult sensibilities). Remember, kids tastes are continually evolving. So unless you love redecorating, save the licensed characters for decorative accents, since you'll be switching them out on a regular basis.
Finally, since the playroom is a learning space, fill it with a wide range of skill-building activities.
Your playroom might include:
An art center, complete with easel or art table and lots of supplies for drawing, painting, and crafts.
A music corner, with child-friendly instruments, so kids can not only listen to music but create their own.
Construction-based toys like blocks and other building sets that encourage kids to visualize and create.
Games and play sets that encourage group play and cooperative skills.
A great table and chair set, for socializing, snacking, games, and even art projects.
An imagination station, like a play kitchen, pretend workshop, or dress-up center to encourage creative role-play.
A reading nook, where kids can kick back and develop a love of books. (One great way to encourage reading is a forward-facing bookshelf that displays books face front.)
Finally, invite your child to help with your planning. It will not only give him a great sense of pride, but will ensure that your playroom is a very popular place.
View More Articles